Transportes y Logística
Digitalisation and 5G speed up crossing of Strait
Port of Algeciras, Cádiz. 6 AM. The first rays of sunlight twinkle on the calm waters of the bay. After a long journey from the centre of Europe and a two-year wait due to the pandemic, Karim is about to board the ferry that will take him and his family and friends to enjoy a well-deserved holiday.
The heavy but fast-flowing traffic at the port entrance confirms it: normality has returned. A few metres ahead, at the first roundabout, Karim notices an information panel that he doesn't remember from previous years. At the top of the panel, an arrow appears beside his car's plate number to remind him to turn right towards pier number 3. A bit farther up, a second panel directs him to continue straight ahead.
Mere minutes after arriving at the Algeciras port and he is already boarding his ferry. "Never before has crossing the Strait been so quick, easy and comfortable. It's technology in the service of people, and it's a big help", mused Karim.
5G and Artificial Intelligence: great allies
The 5G network in the Port of Algeciras helps enhance the efficiency and safety of the thousands of private and cargo-carrying vehicles that pass through port facilities. The yearly peak comes during Operation Paso del Estrecho, when as many as 600 vehicles are managed per hour. Cameras installed at the port entrances and along the pier access roads collect images of vehicles in real time. These images are processed locally, in the port itself, thanks to Edge Computing systems which identify vehicles entering the port, locate the associated ferry ticket and guide drivers safely on their way to their final destination. Processing the information locally reduces outbound data traffic and protects the privacy of the people accessing the port.
Artificial intelligence algorithms developed specifically for this security application are able to read number plates without vehicles having to stop and can even recognise letters in Arabic. Local information processing and double verification ensures an extremely high success rate while 5G communications available throughout the port complex minimise the delay of information which appears on guidance panels.
Augmented reality is now a reality
In basic terms, augmented reality is the combination of real images with computer-generated information. This technology couples the virtual environment with the real world to significantly improve user experience. It is also intuitive and can be learned very quickly. Smartphones and tablets can work with this technology; however, the arrival of the well-known augmented reality glasses has marked an important turning point. These revolutionary devices leave your hands free to perform any task while ensuring that the information displayed is kept totally private.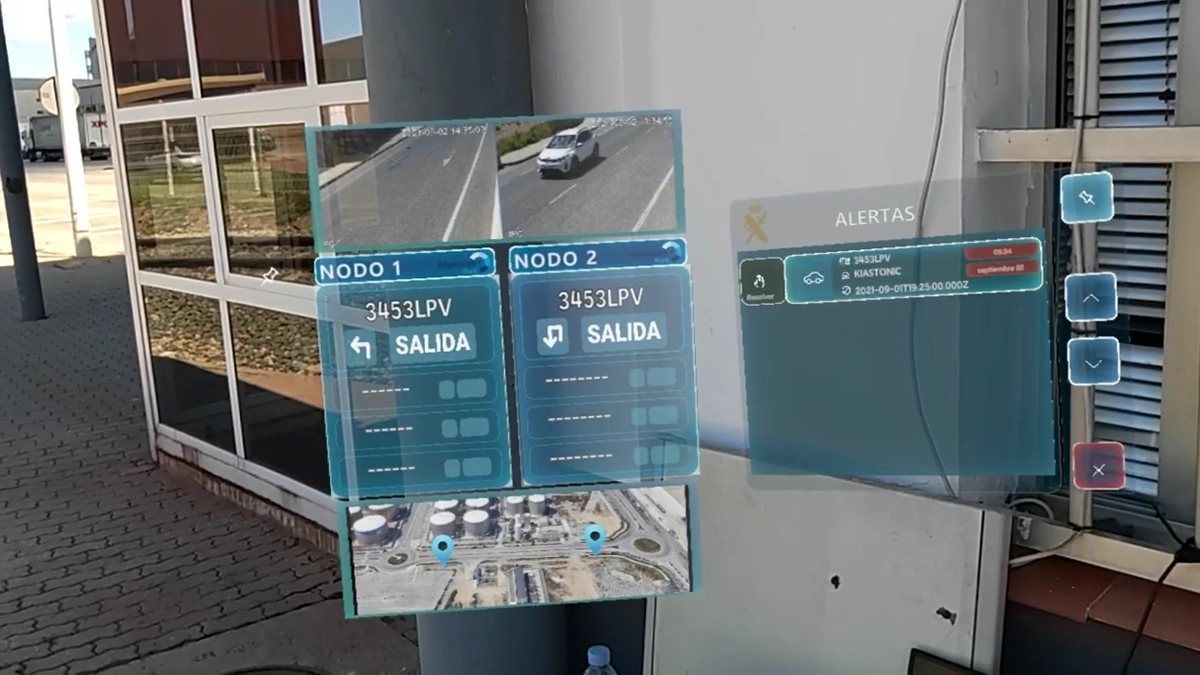 In the Port of Algeciras, these augmented reality glasses have been given to the port authority and heads of security. Besides maintaining a complete view of their surroundings, users receive real-time information about things like arriving vehicles, destinations and ticket availability, and can set warnings and alerts. Here again, Edge Computing plays a key role in processing the information and sending it to the augmented reality device almost instantaneously.
Ultimately, technologies like 5G, Edge Computing and Artificial Intelligence are already digitalising infrastructures and making operations in places like the Algeciras port safer and more efficient.
In Andalusia, where the project is part of Vodafone's Pilotos 5G de Red.es, a total of 32 use cases are being developed in an array of areas like digital transformation, agriculture, renewable energy, security, and efforts to narrow the digital divide. There, smart systems and user equipment implemented by Cellnex have strengthened the company's relationship as a technology partner with mobile operators as part of the new roll-outs of 5G infrastructure.
Manuel Cañete
Cellnex Product Strategy and Innovation