TIS
Raising the (solar) roof
Cellnex develops a photovoltaic energy plan for self-consumption
More than 2,000 years ago, the Greek thinker Diogenes the Cynic settled a philosophical dispute by asserting that "walking demonstrates movement" as he took leave on foot. Cellnex is doing just that. For years, the company has been engaged in an Environment, Social and Governance (ESG) policy in which sustainability and future vision are the cornerstones of value creation.
Scrutinising data and results according to the maxim "What cannot be measured, cannot be improved", Cellnex has spent two years gathering lessons in a pilot project to advance its goals of a carbon-free economy.
To achieve this, it tested different tools for energy self-consumption in various radio and television broadcasting and mobile telephony centres. Based on this experience, the company is developing a comprehensive plan to power 45 percent of its facilities in Spain with solar panels.
In line with the group's commitments towards decarbonisation and the circular economy and reducing operating costs, the project, to be rolled out in five phases, will enable Cellnex to supply more than 10 percent of its total energy needs with on-site self-generation by 2026.
Trials included alternative solutions such as micro wind energy installations in towers, but in the end, Cellnex opted to enhance the efficiency and sustainability of their centres, in terms of both cost and environmental impact, with a formula based on battery-less, panel-generated solar power.
"We decided to use panels for self-consumption without storage, ie. battery-less. The life cycle of solar installations –at least 25 years– is very long, while batteries need to be replaced every five years, undermining the financial bottom line", explains Arturo Losada, head of infrastructures at Cellnex Telecom in Spain. "Moreover, our focus in this project is on sustainability, so the best option is the cleanest one, and battery waste partially undercuts the environmental improvement you get with panels."
Arturo, who has spent 27 years in telecommunications infrastructures, describes this project as "one of the most interesting I have ever undertaken: it has given me the chance to continue learning every day and our contribution is not only to the company but to society as a whole."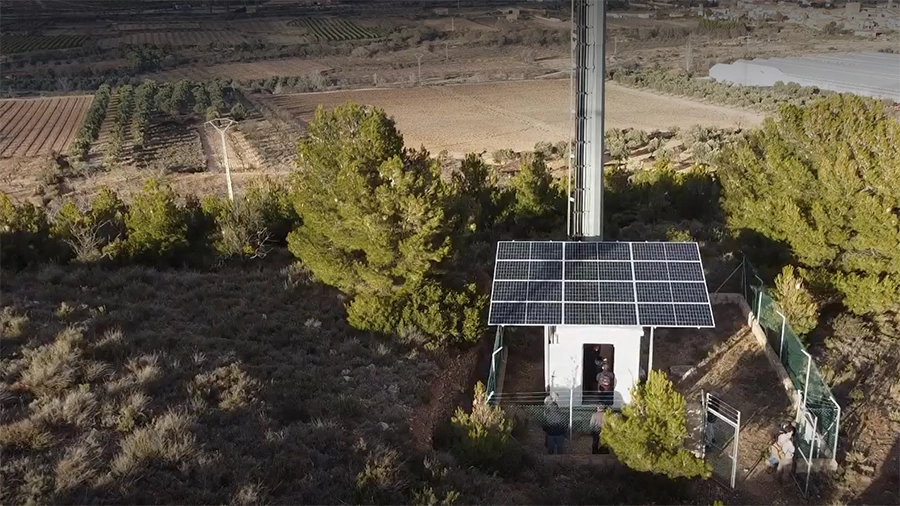 From shade to reflective snow, lessons learned from the pilot project
"If we were to replicate a mobile network from scratch now, we would do it very differently. When mobile installations were built 20 or 30 years ago, nobody thought about physical or solar orientation", says Arturo. "In the pilot project we realised that the surrounding area, sometimes our own tower, generates shadows (…) so the success rate varies between 70 and 80 percent in rural areas and an estimated 50 percent in urban areas."
The experience also helped to refute some initial predictions, particularly one concerning the profitability of panels in high mountain areas. "At first, we assumed that the weather could make high altitude areas complicated. However, it turns out that the panels perform better in lower air temperatures, whereas their capacity drops in periods of excessive heat like this summer. As a result, despite the access challenges they present, we have come to value these facilities."
The lessons from the experience will now be applied in the 12 countries where Cellnex operates. Levels of solar radiation are similar in Portugal, Italy and the south of France, while in the northernmost countries there are greater challenges to generation.
"The same solar panel in Spain is 1.8 times more efficient than in Denmark, but electricity prices are almost twice as high", says Arturo. "Sweden, Switzerland and Austria are also interesting cases because solar energy can be captured by the diffuse radiation caused by sunlight on snow. We have studied technical documents that seem to support productive yields due to this phenomenon."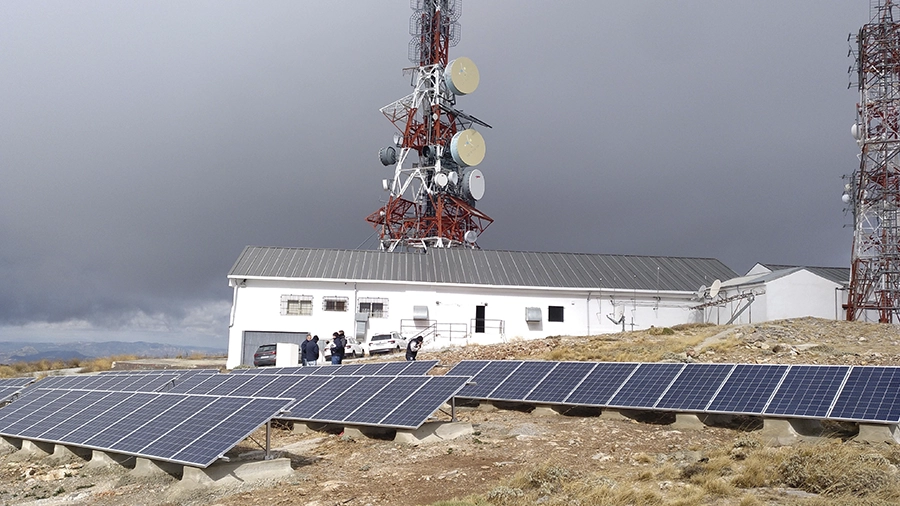 They have also applied their experience to the small network of points powered by diesel generators and not connected to conventional electricity. "To push sustainability as far as possible, we initially turned these into hybrid off-grid points with panels and batteries", he explains. "But we wanted to move forward with the use of hydrogen batteries, which are totally inert and very quiet. We have installed these in two stations and hope to extend to the rest before year end."
The experience may prove to be of great value if the Cellnex Foundation's dream of universalising connectivity by bringing 4G and 5G to rural areas is advanced.