Solutions
Edge Connectivity: Accelerating digitalization
Through the acquisition of EDZCOM in July 2020, Cellnex is developing new generation networks and Edge Connectivity solutions.
At EDZCOM we believe that seamless connectivity of equipment and people in the field is a prerequisite for efficient management of business critical operations and for accelerating digitalisation of assets-heavy industries. To ensure seamless connectivity, the spectrum needs to be dedicated and network operated on the site – at the edge. We call it Edge Connectivity.
Edge Connectivity is a private wireless connectivity solution, connecting assets, equipment and people in the field. It is a tailored, fully autonomous private mobile network with a dedicated spectrum, 100% control and maximum security, enabling 24/7/365 continuity of business critical operations.
Competitive advantages of Edge Connectivity solutions:

EDZCOM designs, builds and operates Edge Connectivity solutions and is the Nordic market leader in Edge Connectivity. EDZCOM currently operates 27 fully autonomous private LTE networks for world-class enterprises such as Kalmar, Finavia, Steveco, Kone and Neste.
Mr. Kari Karjalainen, CIO at Finavia, believes that Private LTE network is helping Helsinki airport to extend the coverage and ensure reliable connectivity for its business critical operations and in the future, will become a part of the core airport infrastructure. See the case study in the video below.
"EDZCOM was really the only one that provided what we needed. Yes, the public telecom operators would have built a network for us, but our remotely controlled drills have limited resistance to delays and interruptions, and the solution we got from EDZCOM gave us the stability and performance we needed to keep our operations running," says Pasi Angeria, Head of section IT at Boliden Kevitsa.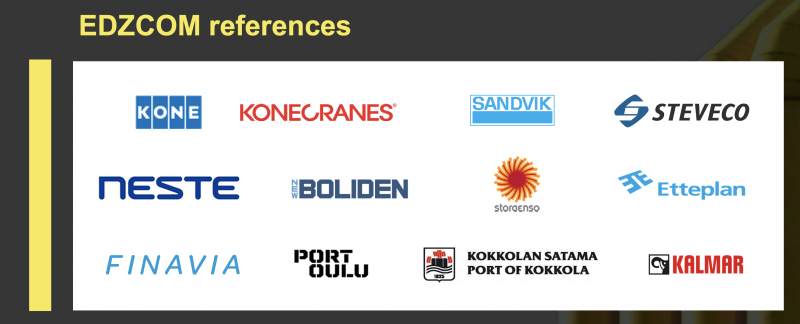 EDZCOM serves enterprises in the logistics, oil & gas, manufacturing and mining industries and the energy generation sector, some of which are working in the most challenging environments and all of which require seamless, tailored connectivity solutions to accelerate digitalisation and increase productivity.
With the integration of EDZCOM, Cellnex expands its capabilities in development and deployment of private networks for critical environments and processes, both in the industrial and communications networks for security and emergency issues fields, in which the Company has more than 20 years of experience providing services to police, fire departments and medical emergencies.
read more