TIS
Effective mobile communications and beautiful areas
Cellnex is on a mission to help address areas of poor mobile coverage across rural and suburban communities in Ireland. Through its Get Connected program, communities can request a review of the mobile coverage in their area and Cellnex then undertakes a technical review of the services and evaluates whether new infrastructure is required as well as the feasibility of providing a shared infrastructure solution to the Mobile Network Operators (MNOs). Shared infrastructure enables MNOs to enter the market at a much lower cost than if each deployed their independent infrastructure to provide service individually. By reducing deployment costs, the operators can provide coverage to more areas than they could otherwise, accelerating the pace of extending service to every household.
Local zoning and planning authorities prefer visually unobtrusive structures that help protect the natural beauty of a local area. This together with the more geographically dispersed population, makes the economics and logistics of establishing effective mobile communications in rural areas much more difficult. In order to solve this, Cellnex Ireland selected Alpha Wireless multi-band tri-sector canister antennas for three rural deployments in County Laois: Ballyfin, Vicarstown and Castletown. These tri-sector canister antennas have the smallest diameter on the market and contain all electronics inside a compact canister.
Alpha Wireless's Frequency Transparent Dipole Technology™ (FTDT) enables Alpha's tri-sectors to pack multiple frequencies and sectors into a small space without compromising performance. With the advantage of FTDT, these antennas can manage multiple frequencies in a compact form factor, eliminating interference and delivering excellent performance.
Vicarstown, Castletown, and Ballyfin are now live, providing the community with 4G and 5G service. In Vicarstown, Cellnex mounted an Alpha Wireless tri-sector canister antenna on top of a newly designed slim line street pole, serving two operators with a single antenna on one streetworks structure for the first time in Ireland. Combining two operators on one aesthetically-pleasing pole keeps the spirit of this rural, scenic area intact and provides outstanding value for Cellnex and the two operators.
Cellnex Ireland worked closely with Alpha Wireless to develop new ways to roll out sites, resulting in less visually obtrusive options that work for the aesthetics of these rural communities as well as providing  a more economical design to help reduce costs. The operators' feedback has been that the antenna's performance has exceeded expectations. In some cases, the new pole may replace existing streetlights but feature the streetlight on the new pole, combining two functions in one tiny footprint and keeping infrastructure to a minimum – an added benefit for many local councils.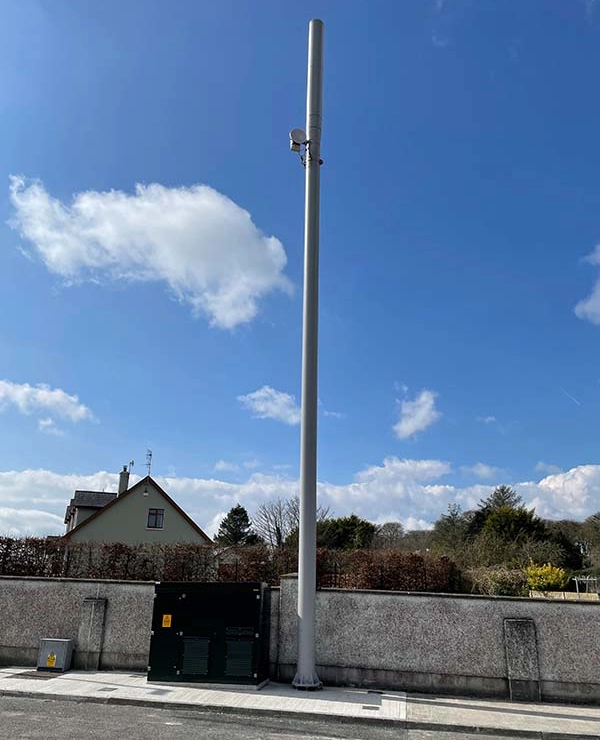 Because Alpha Wireless tests, assembles, and cables the tri-sector canister antennas and pole before shipping to the location, deployment took half the expected time, and installation cost was 50% less than usual. Disruptions to traffic and pedestrians were minimal due to the quick installation.
"It's the combination of bringing the community together, giving them an opportunity to support an infrastructure deployment, and then bringing the operators to the table. We can provide something very cost-effective that allows them to deploy more sites. Over the last 6-9 months, we've had a lot of requests coming in from communities, and it's only now that we're starting to see the first of these sites being rolled out", comments Collin Cunningham, Managing Director of Cellnex Ireland.
read more