Opinion
An overview of MWC 2023
Just a fortnight ago, the telecoms industry converged on Barcelona for MWC23, filling out the Fira de Barcelona convention centre. Nearly 90K attendees from over 200 countries, around 70 ministers, and over 100 heads of regulatory authorities all discussed and debated the future of our industry. It almost felt like I'd returned to 2019, and COVID had never happened.
Unlike last year, no major companies were missing. All the halls were full and bustling and bright and loud, though I must say Barcelona, you did not deliver the sunny weather I ordered! I have always felt sorry for Barcelonese each year when so many people descend on the city, but this year, it was wonderful to see restaurants and bars full and our industry being welcomed back to enjoy one of our favourite cities – I didn't even mind waiting 40 minutes for a taxi – well I did as it was cold, but you get my drift. Mobile World Congress was back with style!
The theme of MWC 2023 was 'Velocity' – Unleashing tomorrow's technology.  Today. So many things were being discussed and debated, with topics covering automotive, automation, AR/VR, entertainment, payments, sustainability etc. At such a vast event, it is essential to focus on a few topics to avoid the risk of collapsing under the sheer weight of development and opinion.
Digital and Customer Experience – most of the stands I saw referenced Experience in some way, showing how the industry is well and truly behind the value of creating good experiences for consumers as a way to drive value.
Obviously, 5G was high on the talking list. Not a great deal, from what I could see, around monetisation proof points or strong use cases. Huawei attempted to make a case for 5.5G, illustrating how disappointing it has been so far, while Nokia and others seemed happy to be looking right into the future at 6G.
IoT seems to be even more prevalent than in previous years and autonomous vehicles and connected vehicles had much attention, Qualcomm, VMWare, SK Telecom, Harman had chipsets, demos, even apps for the ecosystem, but we see pretty cars every year at MWC and I am not sure how different it was this year frankly.
Not a huge amount of innovation was showcased but unusually for MWC, there were lots of consumer devices launched, including:
Honor who launched the Honor Magic 5 series – with the Honor Magic 5 Pro being the flagship device.
Lenovo is all about rollable concepts, with not only a rollable phone making an appearance, but, wait for it, a rollable laptop too. Yes really. (Thanks to PocketLint for the reviews).
Each year there are some fantastic speakers, and one of the most inspiring I heard this year was Oleksandr Komarov, CEO of the Ukrainian mobile network Kyivstar. He outlined how the network had begun preparations for an invasion prior to it occurring but moved to a new phase when Russia started occupying territory. One of the first moves that all operators in Ukraine made was to put industry rivalries aside and allow full domestic roaming.
At points, up to 50 per cent of the network has been out of operation, leading to a big push for the latest battery technology. The biggest difficulty is the radio access network — comprising tens of thousands of sites and base stations — being affected by dirty or unstable power, as well as four- to six-hour blackouts.
Another problem is the destruction of key infrastructure such as power, water and communications — including base stations. Operators had to rebuild from scratch to restore network coverage, a process limited by supply chain difficulties and a lack of spare parts. But despite this, 91 per cent of the Ukrainian network is operational throughout the country today, a testament to what the mobile industry can do when put in a difficult situation. What an inspiring story of resilience from our Ukrainian colleagues.
Neutral and shared infrastructures to improve efficiency and boost sustainability
The Cellnex stand, in one of the main halls, was a meeting point for our ecosystem – positioning Cellnex as a company with a very interesting story to tell and at the very heart of the industry. I have to say that the stand was again gorgeous – well done team – it's crisp clean lines, and simple colour stood out elegantly in Hall 4.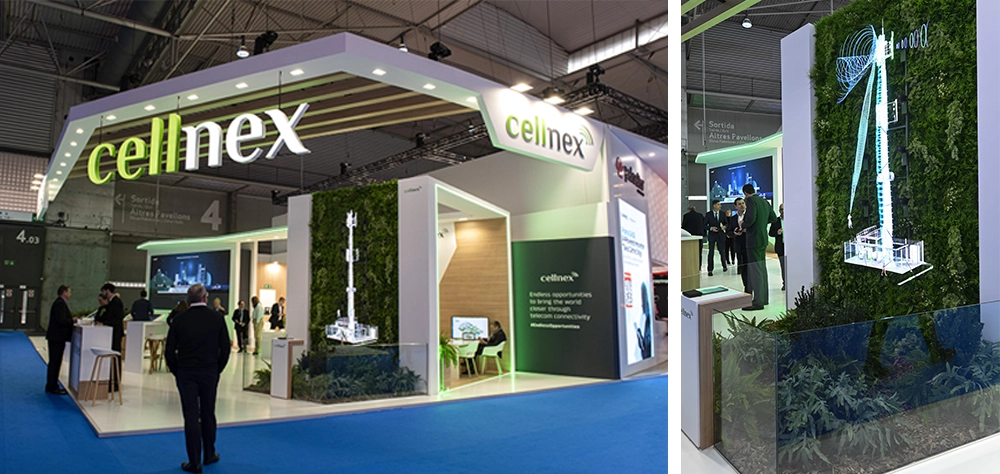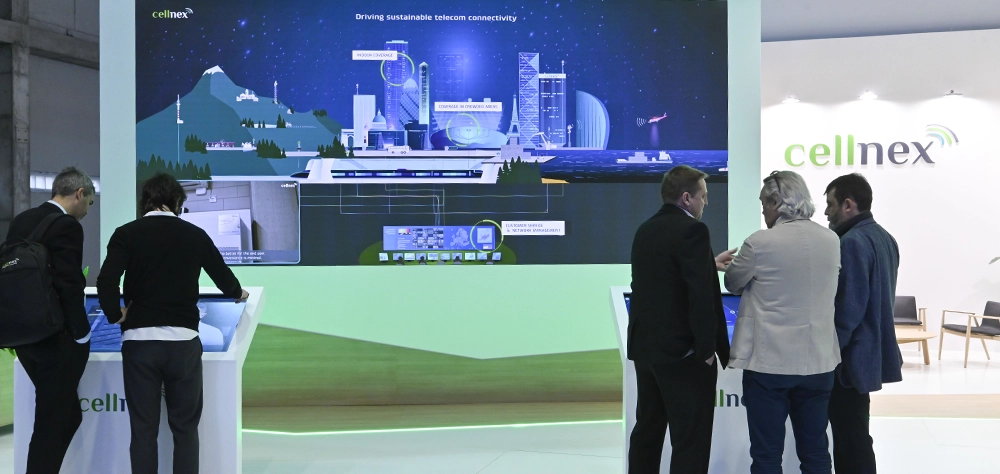 From the time the event opened, the Cellnex stand was busy with visitors wanting to talk to us. As well as the Corporate senior team hosting meetings, the stand was the home to a number of the Country MDs as they met with respective customers, ministers and dignitaries from their home countries.
On our stand, we showcased some great videos of the work that we do in all the countries, but my favourite thing by far was the holographic display of a large 3D-format tower to explain the shared and neutral infrastructure model and the 'Augmented Towerco' concept. Just fantastic!
We were really busy during MWC, and Cellnex' voice was certainly heard. Here are a few of the things we showcased or were part of:
Cellnex tested 5G Broadcast with Rohde Schwarz, Qualcomm Technologies and Ateme. This pilot allows viewers to receive live TV and radio content on their mobile phones with low battery consumption, without consuming data and high-quality network coverage.
We participated on the GSMA Industry City Stage, with Mikko Uusitalo, Global Director of Private Networks & Mission Critical, participating in the session that you can watch here: Manufacturing summit: remote control – connecting an industrial revolution.
Mirko Masi, Technology & Product Lines Global Director, joined a seminar to talk about fibre to the tower.
Product Strategy and Innovation Global Director, Eduardo Fichmann, participated in a conference on '5G mmWave in 2023 and beyond', presenting the 5G mmWave (26Ghz) trial at the heart of the emblematic business district Paris La Défense.
And the icing on the cake was the 5G Catalonia project consortium led by Cellnex and the MÁSMOVIL Group, being awarded the prestigious GSMA Foundry Excellence Award
It was a really productive event for Cellnex, as we met with customers and industry experts. But personally, more than anything else, it was great to reconnect with colleagues, friends and partners. You can't beat meeting people in person to solidify a relationship – so gràcies/gracias Barcelona – same time next year?
Head of Communication & Public Affairs Cellnex UK