Sustainability
Cellnex celebrates EDI Week to enhance equity, diversity and inclusion
Diversity prevails at Cellnex: there are people from different age groups, nationality, gender, race, and belief…, but there is also a prevailing interest in generating equal opportunities and an inclusive environment.
To align all of this culture, at the beginning of 2020 the company signed the European charter of commitment to diversity and inclusion in the workplace, the Diversity Charter and, the Board of Directors approved the Equity, Diversity and Inclusion Policy to promote diversity and reject any type of discrimination that affects the selection, retention, professional and personal growth and inclusion of everyone working within the group.
In parallel, Cellnex has redoubled its efforts, especially through the People area, to disseminate, promote and foster these values internally and involve all the professionals comprising Cellnex's team in the twelve European countries in which it operates.
The proof of this was the celebration of EDI week (Equity, Diversity and Inclusion week) for the second year running. Various activities took place every day during the week to impart knowledge, recognition and values to all the workers of the company around Equity, Diversity and Inclusion; all under the company's leitmotiv "Growing Together".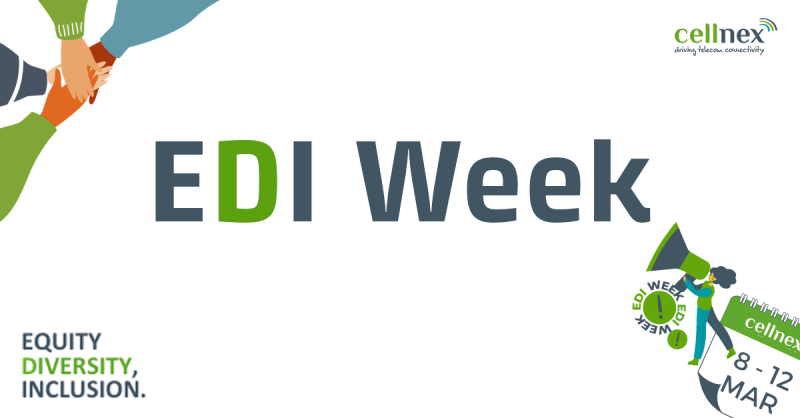 As part of this week, Cellnex's Senior Management, headed by the CEO, together with the General Managers of all the countries, signed a declaration committing firmly to promoting these values through inclusive leadership. "As a leader, one of the most important challenges is learning to value the talent for doing things differently, with different perspectives, because this enriches us all," says Tobias Martinez, CEO of Cellnex. "Better people will lead to a better Cellnex. Therefore being pro-Cellnex means being inclusive".
This leadership model is based on the maxim "We are all leaders" because there are many ways to lead. You can be an inspirational leader who helps connect people based on trust and transparency; an operational leader focused on creating nimble, flexible and connected teams to achieve business sustainability; a transformational leader who promotes an innovative vision by showing an open attitude; or a coach leader helping to build a united team, valuing diversity. All these types of leaders help to create a more inclusive environment.
In accordance with this leadership model, and as part of EDI Week, the figure of the Diversity Champion was unveiled. A group of people from various countries, positions, genders and ages who will co-create, promote and internally implement the Equity, Diversity and Inclusion action plan.
There is still much to do. This second EDI Week is not the end, which is why the company already has an Equity, Diversity and Inclusion Programme in place that focuses on achieving specific goals in relation to gender equality, the generation gap, culture, sexual orientation or abilities. In the words of Yolanda Menal, People Director of Cellnex, this is because "At Cellnex, building diverse teams is a priority, but diversity cannot advance without inclusion, diversity gives us different points of view, inclusion makes it possible to take into account."
lees meer