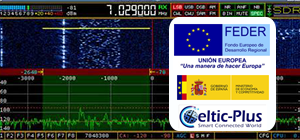 Success Case
ACORN PROJECT (Agile and COgnitive Radio developmeNt framework) (2014-2016)
ACORN es un proyecto Europeo con sello Celtic. La idea del proyecto proviene del trabajo en cooperación de otros proyectos previos europeos Celtic B-21C como el ENGINES. El proyecto tiene 3 Clúster. Francia, Finlandia y España. El consorcio Español se compone de 4 empresas
Redegal
Egatel
SoCe
Retevision
El clúster Español obtuvo cofinanciación por el Ministerio de Energía, Turismo y Agenda Digital en la convocatoria de proyectos AESSD 2014 con referencia de proyecto: TSI-100103-2014-91. El proyecto de investigación de la ACORN apunta introducir el concepto del SDR y el de la radio cognitiva. Adoptando principios y elementos de ambas áreas, la ACORN propone una radio ágil y cognitiva nueva del concepto llamado del software (ACSR). El objetivo del proyecto de la ACORN es el desarrollo de un marco común, que se puede utilizar como herramienta para la verificación de los sistemas de ACSR donde diversos componentes del software y de hardware se utilizan en diversas configuraciones y disposiciones. En la fase inicial de este proyecto se analizan los conocimientos técnicos existentes, tecnologías documentadas, estándares y marco regulador en el campo del SDR y de la radio cognitiva, para posteriormente pre-estudiar un sistema de requisitos y definirlos para el sistema apuntado de ACSR. La radio definida software (SDR) es un término introducido ya en 1991 por Joseph Mitola, que publicó el primer documento científico en 1992. La idea del SDR también fue estudiada en los años 80 por un grupo en la división de Tejas del Garland en E-Sistema Inc. Desarrollaron un receptor digital de la banda base que proporcionó la cancelación de interferencia y la demodulación programable para señales de banda ancha. La primera unidad verdadera de la comunicación del SDR fue desarrollada y puesta en ejecución por Peter Hoeher y Helmuth Lang en el establecimiento aeroespacial alemán de la investigación (LDR) en 1988.
Computing platforms for embedded systems: 
One of the main focus areas within the ACORN project is the generic platform which is developed to enable investigation of different SDR components as part of radio system. The project will enable research of various different application domains, but the development will be common, including common platform components and interfaces between the platform elements. The different application domain clusters will cooperate to form components on higher abstraction layers, which will enable reusability between cross-domain applications.
Reference designs and architectures: 
Cost-effective integration of the software and hardware components, resulting to green long-life products is one of the main goals in ACORN. It will achieve this by exploiting existing components and by the development of novel hardware and software components. As a result, ACORN will provide a reference design with flexibility and high level of configurability which supports the development of common platform. This reduces system design and unit cost, extends the lifecycle of the products and gives a competitive advantage to the European industries.
Seamless connectivity and interoperability: 
ACORN targets creating a common platform which enables flexible linking of software and hardware components in all layers. Dynamic configuration of micro-kernels, flexibility of different configurations and intelligence of the components is essential part of the common platform and components which will be developed by ACORN. Low energy consumption and cost-efficiency will be emphasized.
Design methods and tools: 
The flexibility is the basic principle which is used in the design methods and tools of ACORN. Hence, incremental development, verification, validation and certification shall be ensured by the project. Flexibility and modular development platform enables, that when needed, even sub-sets and separate elements of the developed platform can be taken aside and processed further as separate elements. Also know-how achieved from the design methods and tools can be capitalized as on its own if so desired.