Ireland
For equal opportunities
"Having top class mobile connectivity for businesses and residents in rural areas creates a level playing field with urban locations," claims Angela McEvoy, Director of Services with Laois County Council, in Ireland.
Cellnex Ireland have worked closely with the relevant authorities in County Laois to help address mobile coverage deficits in the county over the past 5 years. As we emerged from the COVID pandemic, it was clear that more work still needed to be done to ensure that all citizens in the county had mobile coverage to support the operation of their businesses, and to facilitate residents remote working and online education. Following a technical review, a number of particularly rural areas were identified where unfortunately the market is not sufficient to support the investment required by both the infrastructure provider and the mobile operators to provide the required improvement in connectivity.
To address this situation and in an effort to get communities involved in the process, the Get Connected Project was initially piloted in 2021 in County Laois. Get Connected is a platform which seeks to give a voice to rural communities across the country who are seeking improved connectivity. It was launched nationally in June 2022. In the two years that the platform has been live, more than 80 forms have been registered, resulting in 46 unique requests for the construction of a modern slim pole solution, which is cost-effective to deploy in a rural environment and less visually obtrusive to the area. The solution used is the result of collaboration between Cellnex and local Irish suppliers.
Of these 46 requests, 3 new poles have already been constructed and 6 more are licensed, all in various counties of Ireland, and all at the request of the end-users themselves.
Two of these new poles were installed in Laois County, where Laois Business Chamber CEO, Caroline Hofman, notes that "poor mobile coverage and blackspots are something we have all experienced, locally and beyond. Thanks to Get Connected and Cellnex, communities are being empowered to collaborate and work together to address these issues and find solutions. The benefits of improved connectivity are wide-ranging for our business members and the wider community in Laois. Laois is now one of the best-connected counties in Ireland."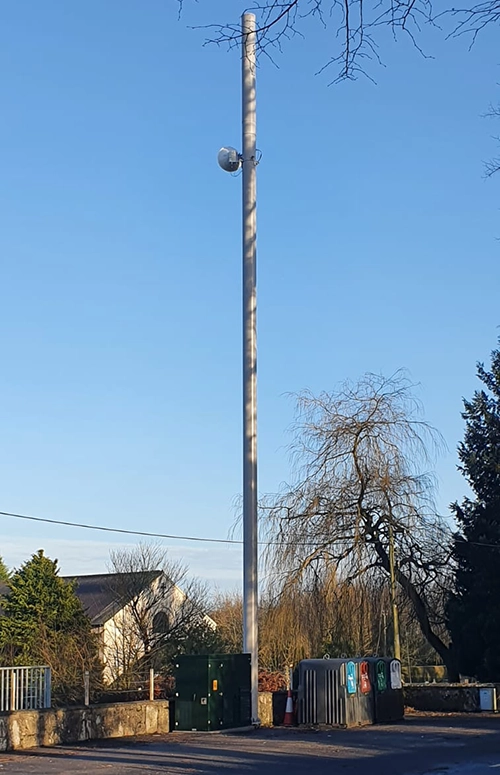 Cellnex has invested more than €500,000 in the Get Connected initiative since it launched the project, in an effort to highlight the viability of public and private collaboration for improved connectivity. Laois and Offaly were the first counties where Get Connected was piloted, with the positive responses from communities and Laois County Council serving as the catalyst for the national launch.
"We estimate the total number of blackspots in commercially challenging areas that need to be resolved is in excess of 200," commented at that time Colin Cunningham, Managing Director of Cellnex Ireland.
"Working from home and hybrid working is now the norm," stats Cunningham. "Ireland's rural communities should not be left in the second tier of mobile connectivity. Cellnex is committed to playing its part and working closely with local authorities, mobile operators, Government departments and other stakeholders to address this issue."
"This type of investment will allow local rural communities to thrive and will significantly benefit the quality of life for residents, as they won't necessarily have to commute to large urban centres, given the availability of high-quality mobile connectivity locally," adds Angela McEvoy, Director of Services with Laois County Council, in Ireland.
The Get Connected platform is still active and accepting proposals from affected communities.