Mediacenter
04 Sep 2017
·
Netherlands
Cellnex Telecom acquires Alticom, consolidating its position in the Netherlands
Significantly strengthens Cellnex's 5G ecosystem
Alticom operates 30 long-range, high-capacity telecommunications towers and sites for transmission equipment for voice, data and audiovisual content operators
Following the acquisition of CommsCon in Italy in June 2016, Alticom adds new capabilities to Cellnex's 5G ecosystem:

An essential component of the roll-out of 5G will be DAS and small cell networks, for which CommsCon is one of the leading experts in Europe; another comprises long-range, high-capacity infrastructure nodes distributed throughout a country, such as those managed by Alticom in the Netherlands, which ensure latencies (response times) of up to 1 millisecond – a requirement for 5G-based data networks.

The investment totals € 133 million and strengthens and consolidates Cellnex's presence in the Netherlands.
Alticom operates 30 high-rise and long-range sites covering the entire Netherlands. These provide location services for wireless telecommunications transmission equipment; location of servers and access to the optical fibre network.
Alticom's customers include all the telecommunication and broadcast operators in the Netherlands, with whom it has contracts ranging from 5 to 10 years.
The expected EBITDA for financial year 2018 is € 11.5 million. Cellnex is financing the investment using available cash and credit lines.
Barcelona, 4 September 2017. Cellnex Telecom has closed the acquisition of Dutch telecoms infrastructure operator Alticom from Infracapital.  The acquisition, which includes 30 towers and long-range sites throughout the Netherlands, for a total value of € 133 million will contribute an expected € 11.5 million in EBITDA in 2018.
The incorporation of Alticom strengthens and consolidates Cellnex Telecom's leading position among independent telecommunications infrastructure operators in the Netherlands. Alticom's long-range site network (tall towers with large equipment capacity) hosts wireless voice, data and audiovisual content transmission equipment and complements the network of 758 urban and rural sites that Cellnex Netherlands already manages.
The characteristics of Alticom's sites are a key element to the future roll-out of 5G. They have the capacity – and connectivity to the fibre optic backbone – to host remote or 'caching' servers to bring data processing and storage capacity to the end users of 5G-based applications which is essential for meeting the exponentially increasing demand and requirements of an increasing number of people and connected objects: 50 billion by 2020.
 Cellnex and the 5G ecosystem
"The acquisition of Alticom's assets in the Netherlands," says Cellnex CEO Tobias Martinez, "provides consistency and solidity to our activity in the Netherlands by incorporating a recurring business, with predictable medium- and long-term flows, while constituting a further commitment, in the wake of the acquisition of CommsCon in Italy in 2016, to the 5G ecosystem on which Cellnex is working extremely hard."
5G will represent an explosion in terms of connectivity, with a 600% surge in mobile data traffic over the next five years (heavily based on downloads of audiovisual content); speeds of up to 1,000 times higher than 3G; and a latency / response time of up to 1 millisecond (100 times lower than 4G).
"A key facet in the roll-out of 5G will be to respond to the technological challenge of latency," continues Tobias Martinez. "In terms of network architecture, there are several issues that need to be resolved. The reduction of 'cells', or areas of coverage, will be served with a denser network based on distributed antenna systems (DAS) such as those operated by CommsCon; equally, it is essential that processing and storage capacity and fibre connectivity for broadband content – something known as 'caching servers' – are brought closer to receivers to ensure expected speed and response rates. This latter issue is precisely one of the lines of work in which Alticom has experience and will add the required expertise to Cellnex's 5G ecosystem."
The sites and towers in Alticom's network cover a 15 km radius, providing service and coverage to practically 60% of wireless telecommunications sites and rooftops, with a smaller coverage radius – up to 15,200 – rolled out in the Netherlands.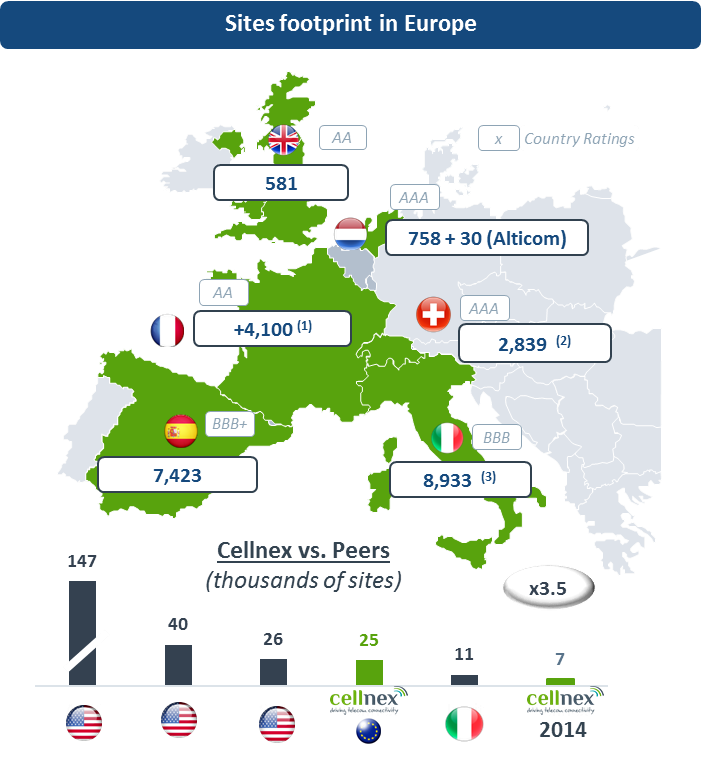 The Dutch market
The Dutch voice and mobile data transmission infrastructure market has three independent operators that manage a total of 1,500 sites – including the 758 that Cellnex now manages in the country, soon to be bolstered with the 30 from Alticom. These sites complement the proprietary network deployed by the three main telecoms operators in the country (KPN, TMobile and Vodafone), plus Tele2, which offers 4G services only. The Netherlands has a total of 15,200 sites throughout the country.
The Netherlands – a country with an AAA rating – has one of the highest penetration of 4G-based mobile broadband in the EU and is already working on the future roll-out of 5G. For the four mobile telephony operators present in the country, this coverage ranges from 92% to 99%. This roll-out has taken place mainly on the back of the existing 2G and 3G sites. As in most European countries, improving coverage to enable mobile access to broadband content in areas with large numbers of simultaneous users is a key future challenge. In this regard, increased network density and capillarity by deploying "small cells" and distributed antenna systems (DAS), together with the ability to adequately serve these contents in terms of speed and latency, will constitute growth vectors in the Dutch market for telecommunications services and infrastructures in the coming years.
About Cellnex Telecom
Cellnex is the main independent European operator of wireless communications infrastructure, with a total portfolio of more than 21,000 sites, including the DAS (distributed antenna systems) nodes managed by CommsCon and the assets that are currently being integrated in France. In 2016 Cellnex Telcom recorded revenues of € 707 million (+15%) and EBITDA of € 290 million (+23%). The Company is present in Italy, Spain, France, the Netherlands and the UK.
Cellnex's business is structured around three areas: Mobile telephony infrastructures; audiovisual broadcasting networks: and security and emergency service networks and solutions for smart urban infrastructure and services management (smart cities and the "Internet of Things" (IoT).