Technology
Fast connections without interferences
Electromagnetic compatibility prevents an electronic device from interfering with other equipment using electromagnetic spectrum. This concept is important for companies like Cellnex because the DAS and Small Cells solutions that are installed in hospitals, airports, sports venues or conference centres must not generate any feedback or interference with the equipment already installed in these environments, particularly the most sensitive equipment, such as medical testing devices, airport bag scanners or sound systems at live events.
Cellnex is expert at developing applications based on DAS systems and Small Cells and is a touchstone for multi-carrier/multi-operator mobile coverage systems in special high-footfall spaces or those with limited wireless signal. Distributed Antenna Systems (DAS) consists of multiple distributed nodes, connected to each other via fiber-optic cable, attached to a centralized BTS Hotel that provides wireless mobile connection in a geographic area or structure.
For this reason, Cellnex Italia and RCF SpA, the leading international company producing and marketing professional audio systems, have performed an ad hoc certification that guarantees the electromagnetic immunity of the systems that Cellnex installs in its DAS and Small Cells projects.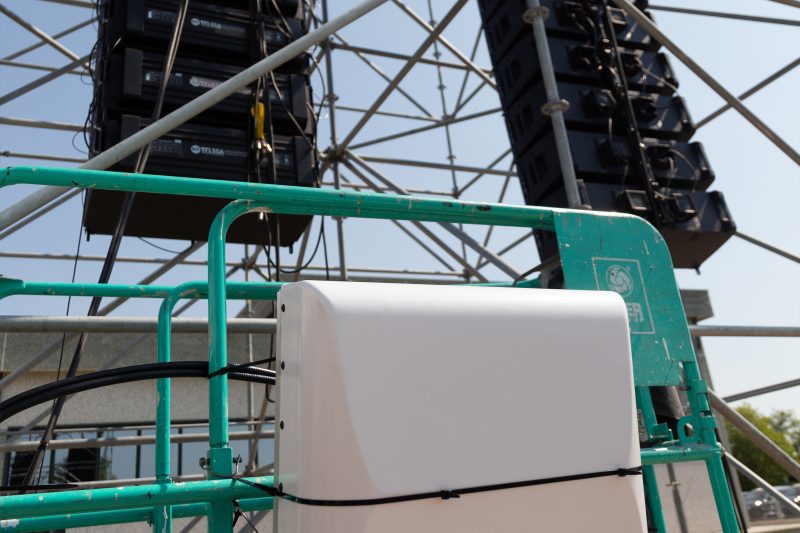 "Cellnex DAS and Small Cells systems and technologies have always been on the cutting edge. This characteristic is fundamental for operating inside or outside buildings in which electromagnetic compatibility is decisive for their correct operation, in full compliance with the requirements and standards established by law. Connecting, surfing the Internet and sharing multimedia content at high speed during a live event is no longer just possible, but also environmentally sustainable", says Giacomo Palumbo, Commercial Director Enterprises & Public Administration at Cellnex Italia.
The tests performed by the equipment manufacturer to verify the level of immunity to electromagnetic fields are established by European and international technical standards. Specifically, test procedures were carried out with the support of specialised technicians from both companies. The results showed RCF's audio systems can operate within the limits of interference immunity when exposed to Cellnex's DAS and Small Cells systems.
Likewise, in the case of DAS systems installed in hospitals, airports or lifts, once we had determined the power of the antenna so that it did not generate an electromagnetic field higher than the immunity level of the most sensitive equipment, we proceeded to perform functional tests or electromagnetic field measurement campaigns. Thanks to these procedures we can exclude the possibility of the DAS system interfering with existing systems, thereby also enhancing user safety.
leia mais