Technology
Digitalising agriculture, the key for competitiveness
Agriculture is one of the most important branches in history and in the economy, driving a process of modernisation and evolution that is still ongoing. The inclusion of 5G and Artificial Intelligence in agricultural activities is already underway. Today there are sowing, irrigation and harvesting machinery that shorten production times and help to make this sector much more competitive. However, innovation in tillage goes much further than this, and today large and small farmers can benefit from significant technological and digital developments on their land.
Cellnex and Vodafone are working together to drive this digital transformation in the field and contribute to a more innovative and productive sector. The latest initiatives include a pilot agricultural connectivity and digitalisation programme, implemented in the Trops Agricultural Processing Company in Vélez (Málaga). This pioneering project is based on incorporating 5G and Artificial Intelligence into agricultural devices and machinery to increase productivity, efficiency and sustainability while reducing costs for producers. This project is part of the "Andalucía 5G pilot" initiative developed by Vodafone and promoted by the Ministry of Economic Affairs and Digital Transformation, through Red.es.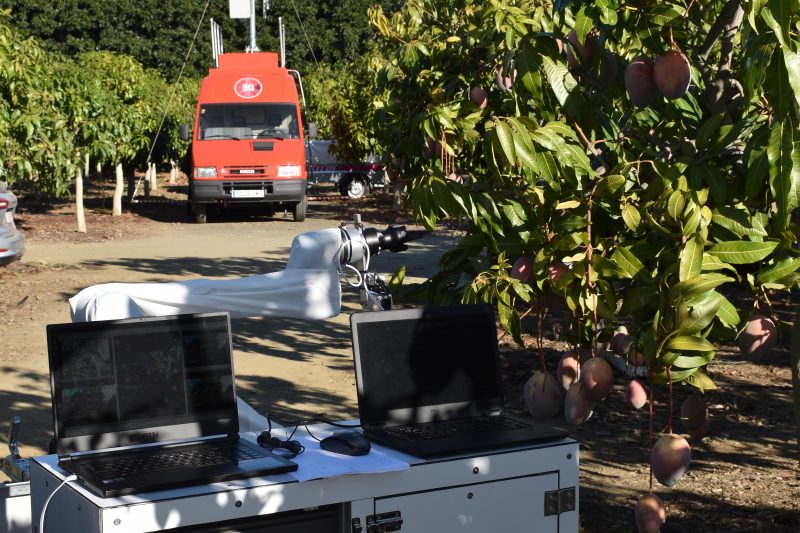 5G technology and Edge Computing as part of innovation in the agricultural sector
The initiative, which involved Cellnex, is based on two pillars: the 5G network and MEC (Multi-access Edge Computing) technology. Incorporating this technology into the harvesting system provides it with the capacity and the autonomy to perform tasks independently with little supervision. These mechanical systems integrate a technological solution that allows them to recognise and identify the state of the agricultural product ready to harvest in real time while guaranteeing an optimal harvest, with the required quality standards in terms of size, appearance and ripeness of the fruit.
This project spells a great improvement to the results of the technology used thus far in the agricultural sector, which was based on vibrating machines that shake the trunk to make the fruit fall and automatic arms to collect the fruit automatically from the tree.
Vodafone has used a 5G mobile unit to provide coverage in isolated environments. Cellnex has helped to integrate Artificial Intelligence in the Edge, allowing more efficient decision-making. After capturing the images using infra-red and stereo cameras located on the harvesting robot, the information is processed by encoding data in real time to decide whether it is time to collect the fruit, thus developing the Machine Learning system in the Edge.
The incorporation of state-of-the-art solutions and technology makes this new agriculture much more productive and efficient, providing great benefits for the surrounding area and the environment. Its implementation has allowed more sustainable and efficient agricultural activity, especially in factors such as irrigation, sowing or harvesting. This new, smarter style of agricultural production improves flexibility, reaction capacity and adaptation to weather changes, as well as increasing crop production and quality.
leia mais