Transportes y Logística
Towards the necessary digital transformation of mobility
The future of sustainable, connected and collaborative mobility lies in its digital transformation. To help industry meet environmental impact and security improvement targets, we must accelerate the deployment of telecommunications infrastructure. These communications networks and solutions are capable of achieving maximum synergies between roads, rail and telecom operators, thus promoting their operations and competitiveness and reducing accident rates.
Having continuous communications coverage, particularly in 5G, as well as elements of real-time data collection, will enable mobility managers to improve decision-making in real time, adapting roads to the needs of the moment; to reduce accidents and increase road safety in line with the goal of zero deaths on the road by 2050; to cut travel times by improving traffic flows, with the economic impact this represents at personal and business level, and to tailor infrastructure investments to real optimised needs. All these benefits can be increased if we add information about the vehicles that use this infrastructure.
Currently, during every hour of operation, a vehicle generates about 2 terabytes (TB) of data, with much of the information used internally to control the car's subsystems. By analysing information that is currently processed by the driver —smart analysis of the video and laser cameras replacing the driver's vision— autonomous vehicles will increase the volume of data to up to 5 TB. This means that vehicles are increasingly becoming processing capability-equipped batteries on wheels, an increase in processing requirements that results in greater energy consumption.
Further, responsibility for the vehicle's movements shifts from the driver to the decision-making algorithms put in place by the vehicle manufacturer, who must ensure that movements are safe and do not create problems with other vehicles. Thus, communication and coordination between autonomous/connected vehicles and the rest of vehicles assuring movement, together with analytical contextual information provided by infrastructure, is crucial to achieving collaborative, safe and sustainable mobility.
In these circumstances, good communications to ensure a vehicle's operation and help it to process its own and contextual information are a key factor in the transformation process. But are they enough? Communication and distributed computing infrastructure must be accessible and shared by the various players in the new mobility ecosystem to facilitate the creation of new models and the immediate (low latency) local exchange of data. Ultimately, in the same way that this is now occurring in the industrial environment, they must promote the process of digitalising mobility and help the various players to materialise the benefits this process entails.
Cross-border infrastructures
At the Cellnex Mobility Lab in Castellolí (Barcelona) and as coordinators of the H2020 5GMED project, we are working to develop multi-technology infrastructure, with distributed computing capacity, to improve user experience and mobility operations and generate new services.
The infrastructure, which is more energy-sustainable, can provide continuous 5G connectivity to ensure future passenger/freight needs, safety, operational efficiency, reduced accident rates and environmental impact. This is a first step reinforced by the upcoming cross-border deployments awarded by the EC on the France–Spain–Portugal corridors (Atlantic and Mediterranean corridor) under the European CEF-2 Digital programme, which will undoubtedly accelerate the digital transformation of mobility and its technological evolution in Europe.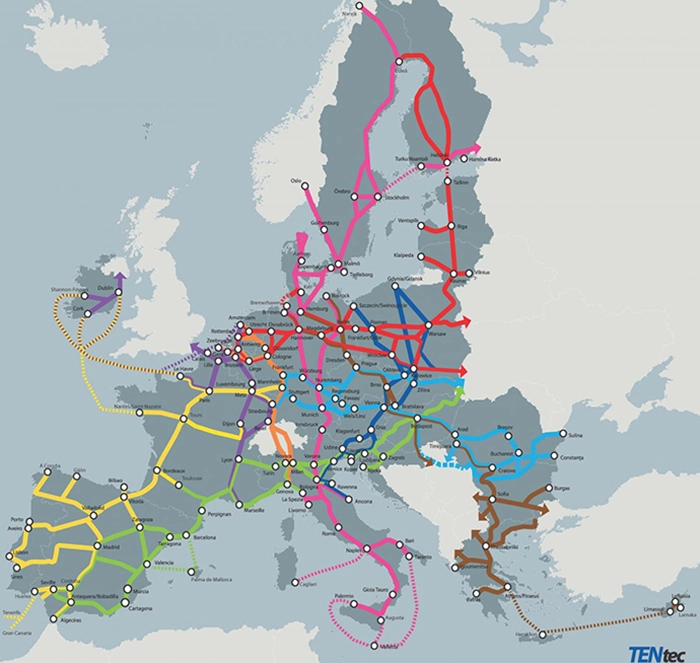 TEN-T network of railways lines; European project to connect Europe by rail
For the moment, this major challenge is focused on the corridors of the 26,000-km European TEN-T network connecting cities, ports, airports and logistics centres. However, in the next few years it will reach cities, where a large part of the movement of people and goods is concentrated, the impact of vehicles on the environment, accidents and society is greater, and new models of shared, personal and autonomous mobility may be more necessary.
In the H2020 PoDIUM project, in which Cellnex participates as pilot project coordinator in cities/corridors in Germany, Italy and Spain, work is starting on collaborative and connected mobility in cities, allowing connected and autonomous vehicles to coexist and improving city traffic.
In the years ahead, data-driven driving will help mobility to evolve from private vehicles to a mobility that is shared, collaborative and autonomous. The study that we are conducting with Abertis as part of the CEF-2 Digital call for proposals, in the EUMOB project, analyses what services and business models can be developed from data generated from vehicles and infrastructure.
All these actions help to accelerate the digitalisation and technological evolution of mobility (c-v2x, FRMCS, 6G, Edge, etc.), where Cellnex, present in 12 European countries, can play a key role, allowing it to tackle cross-border deployment projects in the main TEN-T corridors and in cities.
Raül Gonzàlez Prats
Senior Product Manager
Cellnex Collaborative Projects
leia mais