Smart cities
A multi-use site to improve connectivity in the city
Cellnex participates in innovative programme to densify Dublin networks by repurposing street fixtures
New technological possibilities and the connectivity requirements of large cities have opened up a universe of opportunities to advance the concept of smart and efficient cities.
5G development has generated new opportunities for interconnection that can leverage the benefits of this technology. In large cities, moreover, densification has sometimes led to digital traffic jams that require new infrastructure.
But in the city there is often a lack of space to build new roads, and the antennas that traditionally populate the skyline in large cities are not sufficient to quench consumers' thirst for data.
At this crossroads between the need for services and respect for the urban environment, an innovative initiative of Dublin City Council has emerged that looks to existing fixtures to improve telecommunications services.
Cellnex Ireland, in collaboration with Bigbelly, a world leader in smart waste and recycling solutions for public spaces, has repurposed litter bins and equipped them for connectivity.
The litter bins that Bigbelly has distributed around the Irish capital are solar-powered and include smart services such as usage alerts to speed up collection. With the arrival of Cellnex, these bins house an infrastructure of small cells (small embedded antennas) to improve connectivity in the city and Internet of Things (IoT) applications.
"This is a proof-of-concept project, with Cellnex acting as a key infrastructure partner in the pilot deployment of small cells in cities", says Paul Delaney, Sales Director of Cellnex Ireland.
Antennas have also been installed in smart streetlights and lamp posts, where the infrastructure remains hidden and installation permits are faster and easier to obtain.
"The key with small cell deployment is that we need to use existing infrastructure or elements similar to those already found on the street, to provide people with additional capacity and coverage. We have been able to place the equipment in elements that blend into the urban landscape", explains Colin Cunningham, General Manager of Cellnex Ireland.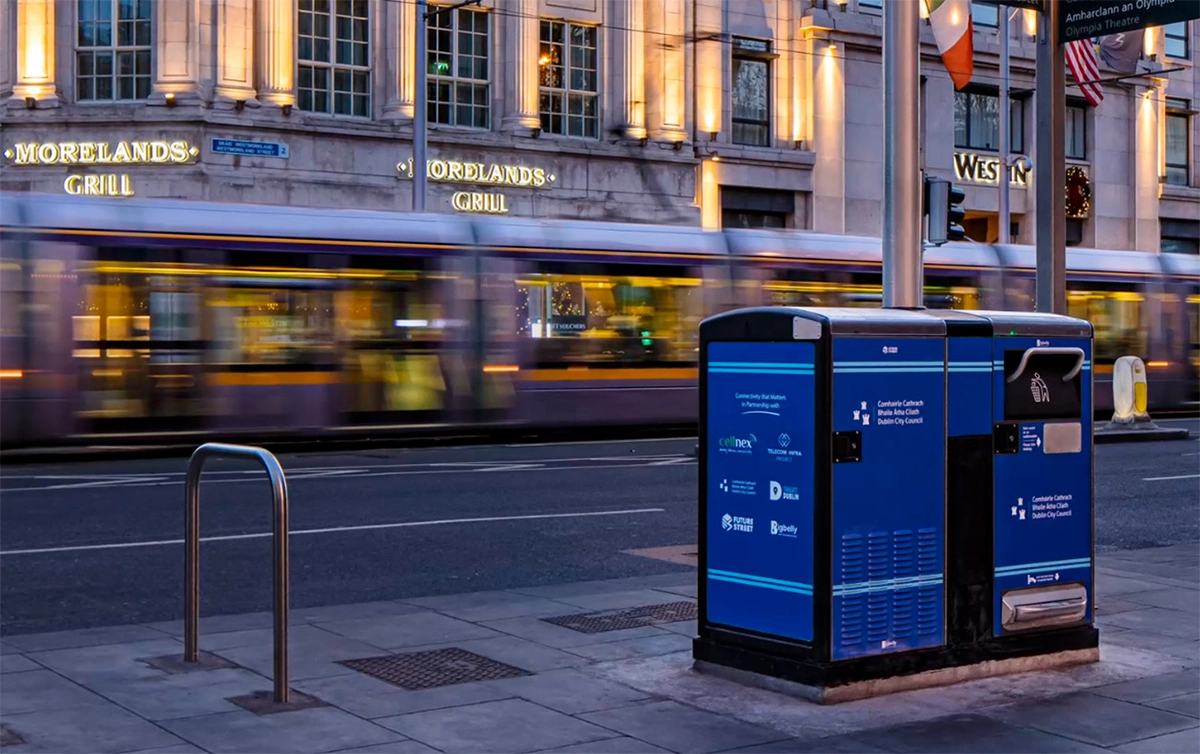 One of the main challenges of the project was dialogue with stakeholders (local authorities; telephone operators; energy, fibre and equipment suppliers) to understand their needs.
"First, our role was to engage with the stakeholders, bring them together, examine the requirements of each one, understand what they needed on an individual level and how we could integrate that to align a final product that met all the conditions, including those of Dublin City Council, the planning departments, the highways departments, etc", Delaney says. "At the same time we had to examine mobile operators' requirements in terms of radio frequency and the technologies to be deployed in the infrastructure".
The project involves collecting and analysing data to take the pulse of a city with 'smart' etched in its DNA, although the fundamental mission of the installed antennas is to increase network coverage and capacity with a neutral installation which is ready for any operator.
The project, a pioneer in Europe, taps into the new concept of universalising telecommunications services as a result of the pandemic.
As this is a neutral infrastructure, the proposal reduces entry barriers and will speed up telecommunications operators' roll-out of a solution with economies of scale which can be easily replicated by leveraging Cellnex's expertise.
"As part of this project, we drew on some of the lessons learned in the other Cellnex countries and had a team of people connected to the process to help us", Cunningham says. "We can now pass along those lessons to the twelve countries in which Cellnex currently operates".
"Technology is constantly evolving. Our job at Cellnex is to stay ahead of the curve to ensure that our infrastructure is capable of supporting new technologies and capacities that will be needed in the future", concludes Cunningham.