Sustainability
Business Continuity Management System
Cellnex operates a business continuity management system that allows it to identify the risk of exposure to both internal and external threats in the activities we carry out.. This system is based on the international standard ISO 22301 and the BCI (Business Continuity Institute) Good Practice Guide (GPG 2018) which make it possible to provide a response to disruptive events with greater resilience, thereby protecting the commercial interests of the company and its main stakeholders. This reinforces the importance of the SDGs (Sustainable Development Goals).
Quality and continuous improvement
Quality is a strategic priority and a transversal commitment at Cellnex, as a crucial element related to all areas of the company whose main goal is to achieve high levels of customer satisfaction, continuous improvement, sustainable development and business excellence.

The service offered by Cellnex focuses on meeting the needs and expectations of its customers by providing support infrastructures and telecommunications services, adding value throughout the entire life cycle of the services and all of this focused on the customer experience and seeking the satisfaction and trust of Cellnex's stakeholders.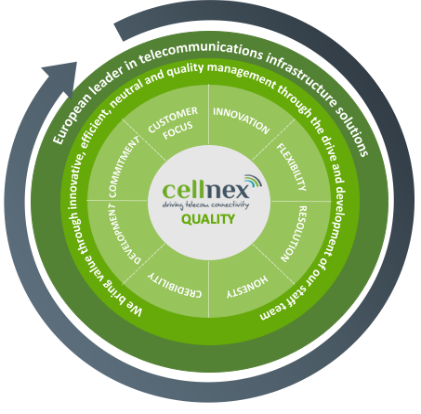 Human Rights
At Cellnex we are committed to respecting Human Rights throughout our value chain as an integral part of the company's core values and as a general conduct to carry out our business operations in a legitimate way. To this end, we have a Human Rights Policy aligned with the main international human rights standards.
As an expression of our solid commitment to the internalisation of Human Rights, Cellnex integrates the principles of Due Diligence and the assessment of potential Human Rights risks.
The work being done on the Integrated Management System enables us to achieve company-wide goals in a standardized and centralized manner, which also helps in the integration of current and future group companies in a sustainable and excellent way.
Àngels Ucero
Global Sustainability Director
This a major step forward, not just because it reflects commitment with quality assurance of our activities as well as good practices in the Environmental and H&S arena.
Toni Brunet
Corporate and Public Affairs Director