Success Case
Eskala 4.0 (2017 – 2019)
Latest Innovations
The airport environment is one of the most complex ecosystems within mobility systems, and the airport of the future must be able to combine an overview of all the people and processes comprising the ecosystem, allowing strategic planning and real-time adjustments to be made in a coordinated manner between the various actors, based on coherent information and involving high levels of automation and artificial intelligence. In this light, the 
ESKALA 4.0
 project focuses on the aircraft's turnaround process. During this time, the aircraft is "processed" using a series of procedures, services, systems and internal stakeholders (handling, airline, security, etc.), with the ultimate goal of minimising the time that the aircraft is on the ground. In other words, the aim is not only to optimise all of the sub-processes individually but also that the parent turnaround process as a whole is optimised overall, in a security environment. It is therefore necessary not only to optimise each process individually, but for there to be a higher layer responsible for a holistic overview in order to perform this function. In this context, 
the overall objective
 of the
 ESKALA 4.0
 project is to progress in the provision of strategic technologies that will bring us closer to the airport of the future, starting with the optimisation of turnaround times. Nonetheless this may be extended to other environments, as the only way to satisfy growing demands for efficiency, economy, safety and environmental compatibility according to the 
"Industry 4.0"
 concept, with the highest levels of automation, such as those required in scenarios that integrate various automated ground transportation vehicles (GVs) in airport operations. Retevisión will act as the system connectivity provider. As experts in Wireless Communication Technologies, we will install and integrate the communications infrastructure into the project. Based on project needs, we will use the most appropriate technologies to provide an efficient, fast and low-latency communications network. Retevisión's goal is to continue growing in the Communications field, and more specifically in the airport area, studying and analysing the issues this environment entails and thus positioning ourselves in the market as the main provider of communication solutions. The project is divided into several work packages, with Retevisión acting as coordinator of package 4, dedicated to Connectivity.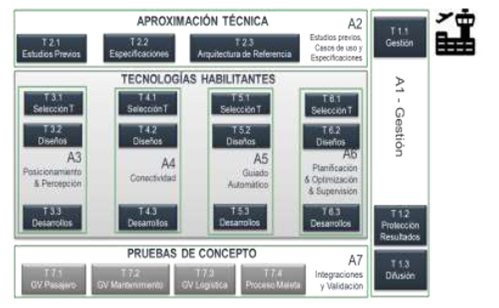 ESKALA 4.0 is a project co-financed by the BASQUE GOVERNMENT and the EUROPEAN UNION through the European Regional Development Fund 2014-2020 (ERDF). EUSKO JAURLARITZAK ETA EUROPAR BATASUNAK  2014-2020 ESKUALDE GARAPENERAKO EUROPAR FUNTSAREN (EGEF) BITARTEZ KOFINANTZATUTAKO ERAGIKETA