Success Case
Q-NETWORKS
Latest Innovations
The project
Entanglement Distribution for Quantum Networks, Q-NETWORKS, (PLEC2021-007669)
aims at developing the
foundational building blocks for a Quantum Internet
, and to perform
first field demonstrations
. The ever-increasing range of applications of quantum technologies will soon require a fully functional quantum network.
Quantum networks hold promises for revolutionary new ways of transmitting and processing information by encoding, distributing and processing information with quantum bits. Quantum networks are composed of material quantum nodes, which can process and store quantum information, and of quantum channels (e.g. optical fibres) that are used to distribute it using entangled photons at telecommunication wavelengths.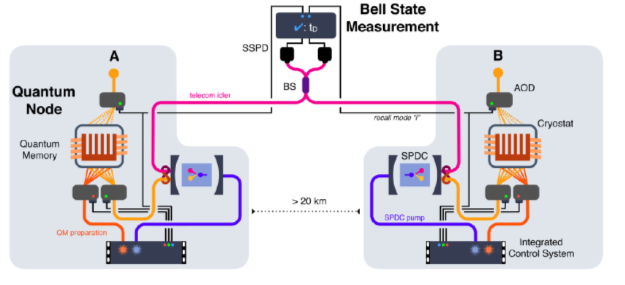 ICFO and XOC have created a common roadmap that includes the creation of a
quantum network testbed
, the identification of the first use cases and the promotion of IP protection and commercialization measures. The technology has a powerful position with a clear international dimension (European and Global) placing Spain in a leading position with regard to the development of
Quantum Repeaters for entanglement distribution.
The research on experimental quantum networks that we will carry out in this project involves several disciplines such as quantum communication, non-linear optics, system engineering and telecom engineering. The project will go well beyond the state of the art on practical and fast entanglement sources, multiplexed quantum memory nodes and quantum network demonstrations. We will make significant progress in quantum repeater technologies, and we will demonstrate the longest quantum network elementary link to date.
In this proposal, we will demonstrate experimentally entanglement distribution in quantum networks. We will generate heralded entanglement between two distant solid-state quantum nodes allowing to store the entanglement for future use.
Q-networks project is financed by MCIN/AIE/10.13039/501100011033 and the EU "NextGenerationEU"/PRTR and is carried out by Institute of Photonic Ciences (ICFO) as Project coordinator and Xarxa Oberta de Catalunya (XOC)