Success Case
Smart NOC
Latest Innovations
SMART NOC
(Research into emerging technologies for the intelligent management of communication network operation centers) is a multisectoral and multidisciplinary R&D Consortium with effective collaboration, made up of 6 top-level technology and telecommunications companies, led by RETEVISIÓN and supported by 4 reference Research Organizations in Spain. As a project framed by the intelligent management of Network Operation centers, it is being led by Retevisión (Cellnex Group), the main neutral communications operator in Europe, together with 5 highly positioned technology companies in the different links of its value chain (TAIGER , GSERTEL, GMV, SCOPE and OPTARE), as well as 4 Research Organizations of recognized prestige in the sector: Technological Telecommunications Center Foundation of Galicia (GRADIANT), Technological Institute of Castilla y León (ITCL), Carlos III University of Madrid ( UC3M) and University of Vigo. The objective of the
SMART NOC
project is to investigate various technologies, techniques, tools, methodologies and knowledge aimed at developing
technological solutions for the intelligent and secure management of communication Network Operation Centers (NOC)
, both from communications operators and private networks of Industry 4.0, Smart Cities or Critical Infrastructures; to make them more
efficient, reliable and secure
.

The
SMART NOC
project will facilitate the adoption of technological solutions for a new generation of Network Operation Centers that provide security, effectiveness, efficiency and reliability to information systems; through research in technologies such as AI, Big data, innovative interfaces or storage systems. All of them are disruptive technologies in the international and national technological landscape.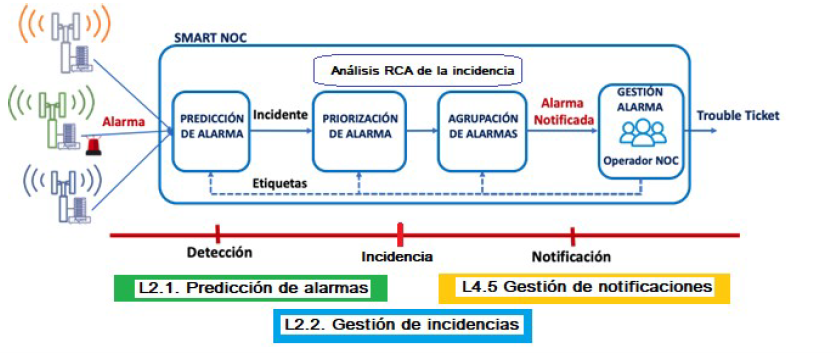 The project budget is
€5.84 million
over
42 months,
with a clear and ambitious incentive effect for the participating companies. Cellnex budget is around €
1.98 million. The Project is funded by the Spanish Ministry of Science and Innovation through the Center for Industrial Technological Development, with reference number IDI-20210856.